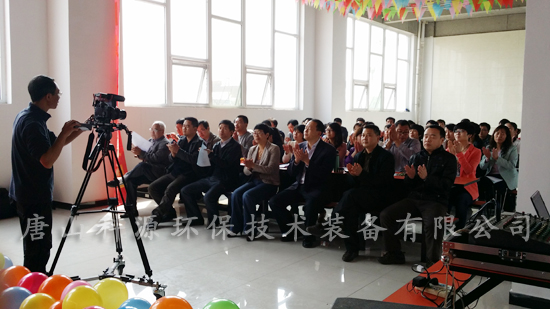 In April 12, 2014, Tangshan Keyuan environmental protection technology and Equipment Co., Ltd. held its 10th anniversary birthday celebration in the company's new factory area. At the celebration conference, the general manager Yuan Wei issued a speech and reviewed and looked forward to the development of Keyuan company. The representatives of the old and new employees and some comrades also published their comments respectively. During the period, they also carried out rich and artistic performances. The celebrations made a successful success with the joint participation of all the staff.
The 10th anniversary celebration of the company is not only the condensation and summary of the ten year development of the company, but also the new starting point of the company's past and future development. It fully shows the spirit and appearance of the people of the science and technology.
Tangshan Keyuan environmental protection technology equipment Co., Ltd. has established 10th anniversary celebrations successfully. It is the result of the company's unity and dedication, concerted effort and hard work. The company's leaders at all levels and the grass-roots staff in the company set up 10th anniversary celebrations in the company. Spirit, showing a concerted effort, the overall situation, the fine quality of hard struggle and the spirit of pursuit of excellence, is the rich spiritual accumulation that the 10th anniversary celebrations leave us and the valuable spiritual wealth of the company. Believe in the support of the company, under the hard work of the staff, the construction of Keyuan company will certainly develop better and faster! This big family will also bring the same warmth, warmth and warmth to the staff.